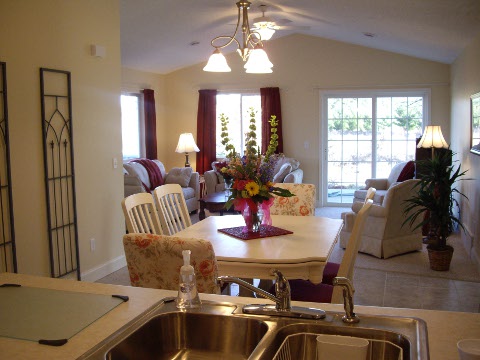 The Cottages were built especially for crafters in 2009 and are almost identical, each with three bedrooms, two full baths and separate heating and a/c. Plush bedding and towels are provided.
Each uniquely decorated bedroom holds two guests (five twin beds and one full bed per Cottage). Everything has been designed for maximum privacy for each Cottage. Views from windows, outdoor seating areas and even the parking areas are separate. There is soundproofing throughout the Cottages.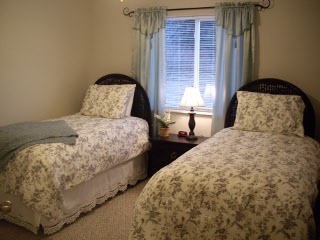 Our guests enjoy an open concept floor plan with the living room, kitchen and dining areas open and vaulted. Everything is on one level and handicapped accessible. Each large kitchen is fully equipped with everything you need to prepare and serve your meals. Catering is available. There is a TV/DVD in the living room and a TV/Blu ray/DVD in each craft room.
Each Cottage has an outdoor pergola/eating area with a gas grill off the living room and a front porch to enjoy the surrounding gardens.